Learn more about: #21 | Restoration | Operation | Old Photos | Work Photos |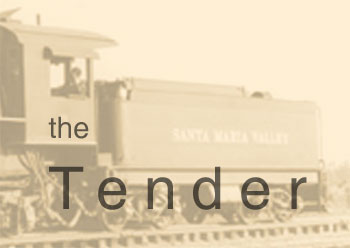 SMV's Tender in its prime.

The tender holds the fuel and water needed to power the mighty locomotive.

In order to restore engine #21 to operating condition we must also rebuild its tender. The fuel tank, frame, tender trucks, piping and brake gear were in good enough condition that they could be restored. The water tank, however, was rusted through in many places and needed to be completely replaced. We decided to build a new riveted water tank to match the original. Follow the construction of this new tank in the construction photo section. We unveiled the completed tender at our open house in August of 2008.


Once locomotive No. 21 is restored, the ARPA plans to run it for excursions along the A-line, which includes tracks owned by the City of Astoria and Portland & Western. We hope the trips will educate the public on both the labors and the grandeur of the bigone era of steam-train travel.

Watch the restoration -- visit our Photo Journal.